Private affair CPAmatica

Title – CPAmatica
Website – cpamatica.io
Type – CPA, CPI, CPL, CPS
Verticals – dating, health and beauty, goods.
Traffic is from any source (constraints overlap each advertiser separately).
Number of offers – 800+
Possibilities – own system of statistics collection, sub-accounts, ready-to-use pre-land and land, shortcuts.
Hold – no.
Min payment – $50
The frequency of payments – weekly on Thursdays.
Methods of payment – Webmoney, Payoneer, Paxum, Paypal, ePayments, Wire.
Calculation currency – dollars.
Referral program – 2%
Brief summary

Do you want to earn money on arbitration? Then pay attention to CPAmatica. Geographically, the partner network is located in Kiev, and its activities are spread all over the world.
The number of offers increases so rapidly. At the time of this writing, more than 800 items were listed in the catalog.
In large parts, the increase is due to the ability to request the missing product. After filing an application, the managers take charge of your case. CPAmatica employees contact the advertiser directly and promptly add an offer to their database.
Traffic is received from all over the world – Europe, USA, Asia and Latin America. As such, there is no hold. Delays are due to the period of update statistics.
You now need to inform, how to start earning an affiliate network.
Registration in the CPAmatica affiliate network

1. Press the registration button. Enter your email and password –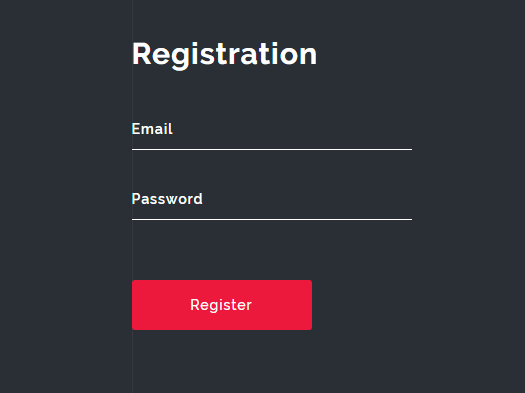 2. You will be transferred to the detailed form in which you need to drive:
name;
the name of your company;
Skype;
the source from which you learned about the CPAmatica affiliate network;
link to an account in FB or LinkedIn.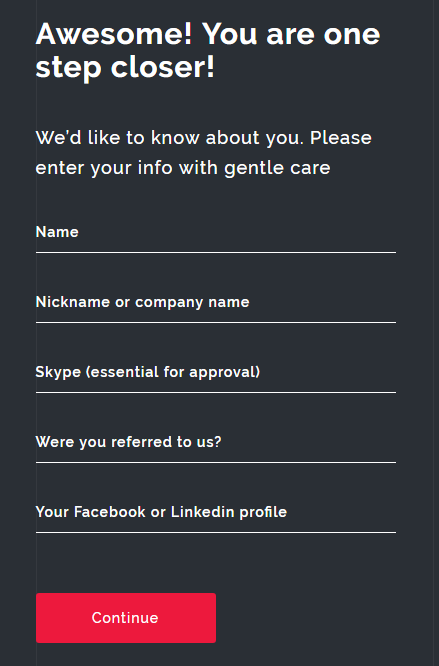 3. CPAmatica partner prefers to work with experienced web-masters, but newcomers are also welcome. You will be asked to indicate:
3 countries, traffic from which you poured;
vertical.
When registering you will be asked about:
monthly income;
the best way to withdraw funds.
If you are a member of any arbitration community, be sure to indicate this while registering. So you will increase the degree of trust.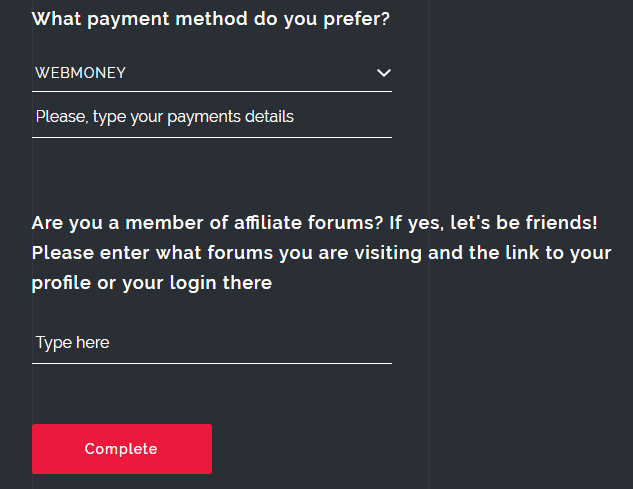 Eventually, a window with contacts of the personal manager will pop up. Contact him by email or better by Skype. Otherwise, the account is not up and you can not log into your account.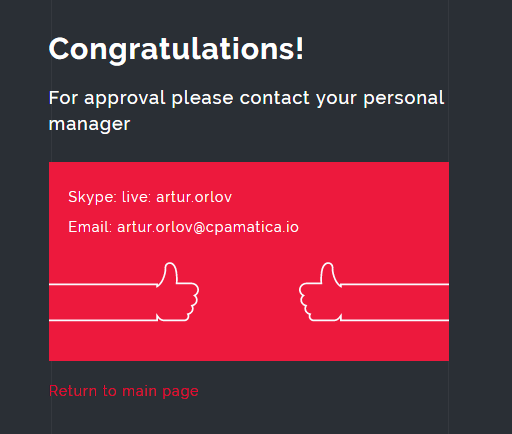 Acquaintance with CPAmatica affiliate network

Usually the manager comes on contact on the day of registration. Exception – holidays and weekends. As you get to know each other, you will be asked in a few words to talk about the previous plums.
You can earn on an affiliate as soon as you see a letter in the mail: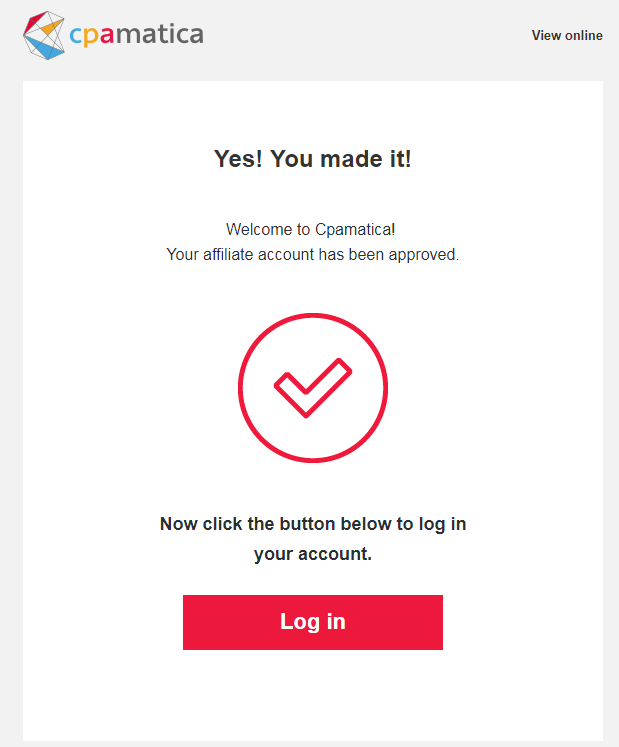 The interface remains intuitively understandable. Feel free to go into your personal area and start to master the functional –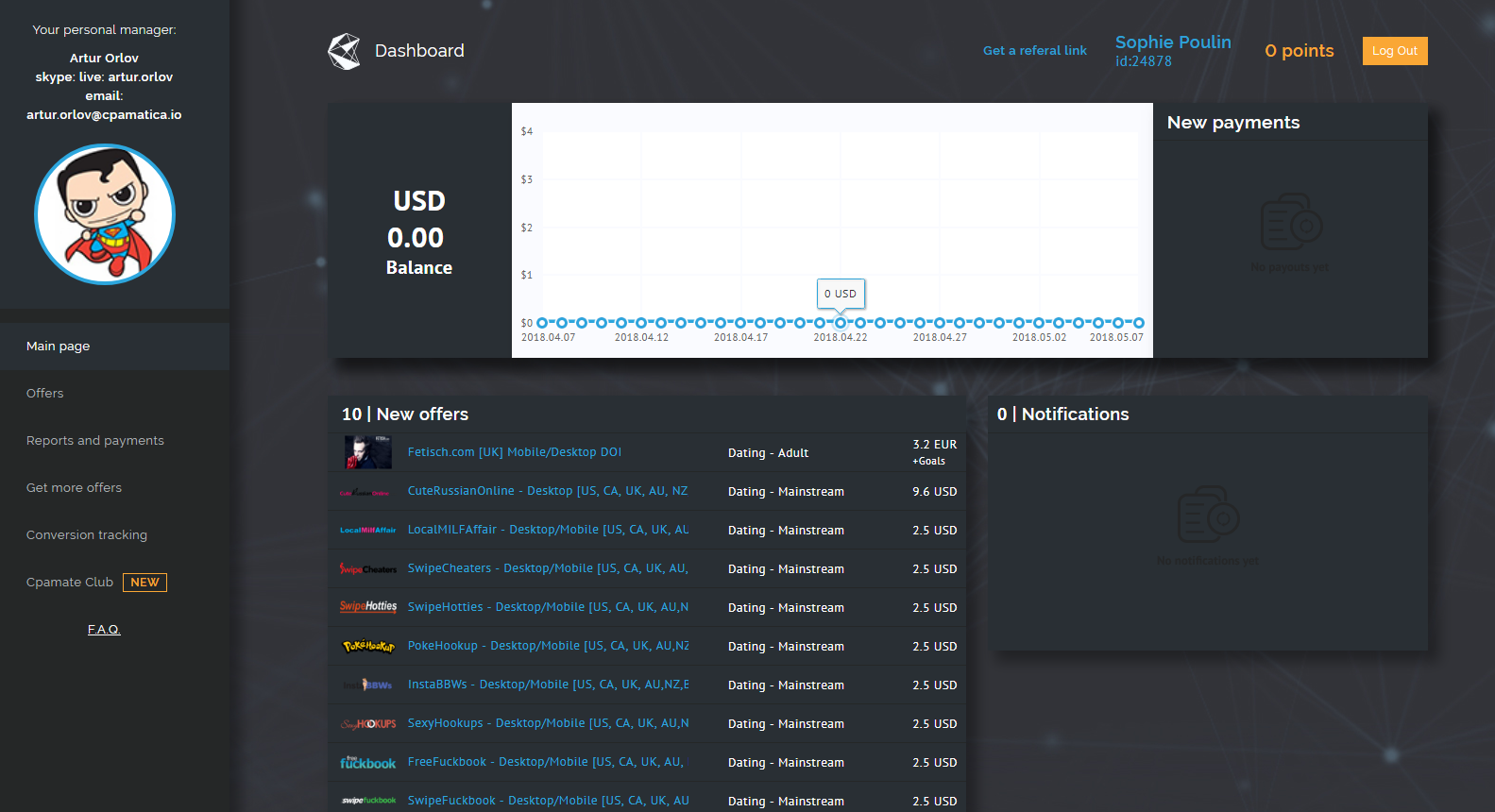 CPA offers

In the catalog of the offers are represented mainly products of the categories "Beauty and health" and "Dating". In addition, you can choose from the following categories:
goods;
e-commerce;
games;
instales;
binary options;
totes;
entertainment.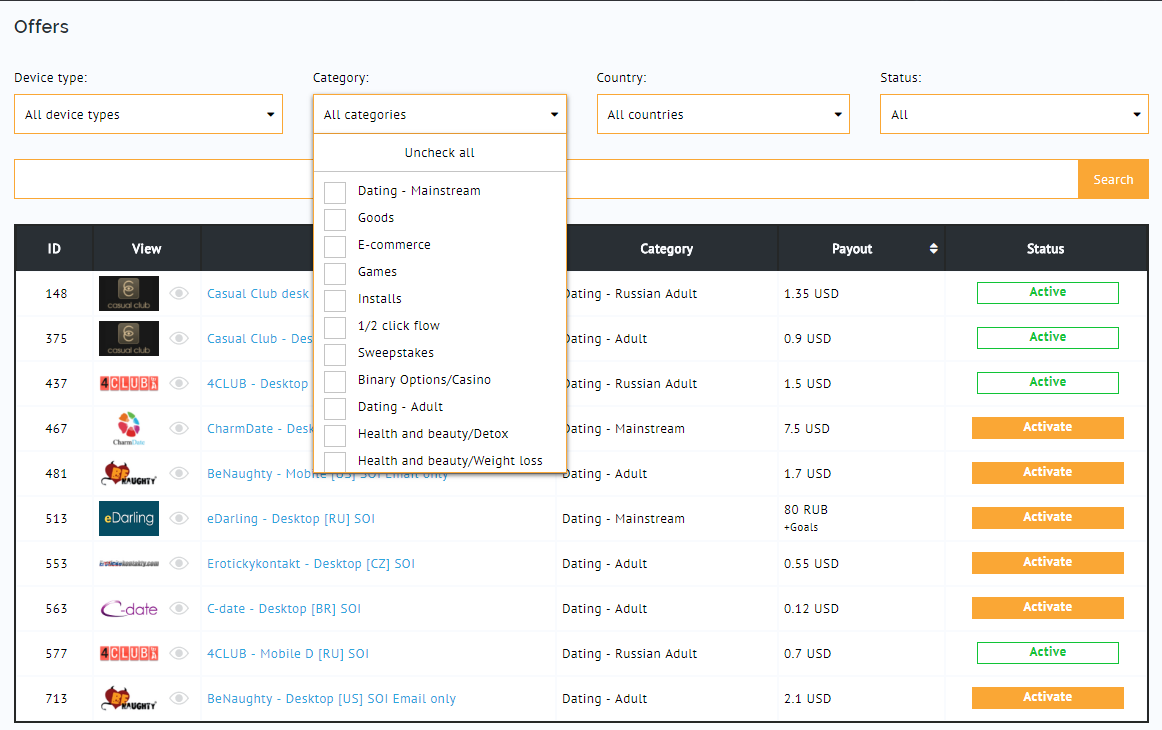 Even a newcomer will be able to earn in the CPAmatica affiliate network, because a part of the offers is available without an additional approve.
Carefully read the product card. It includes targeting settings and traffic source restrictions.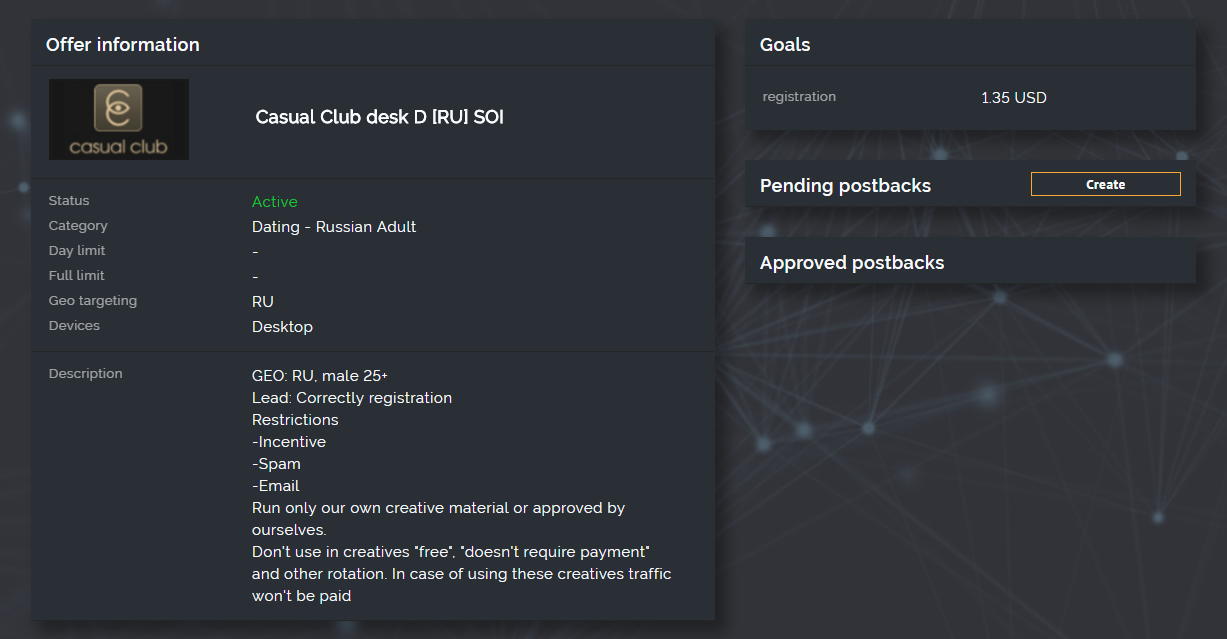 In most cases, promotional materials are included with offers.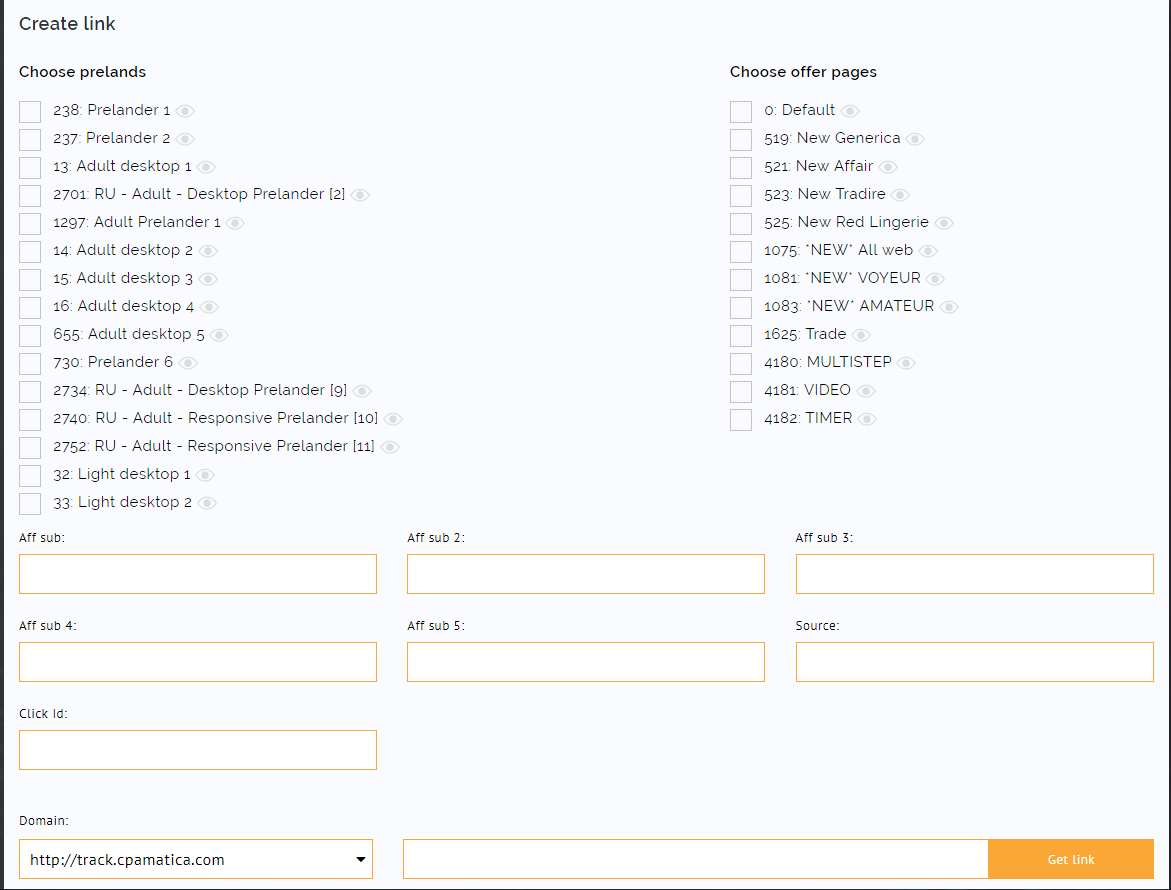 If you did not find the desired offer, then you can apply for its addition. It is quite extensive. Enter:
the name of the offer;
a reference to landing page;
do you cooperate with another affiliate?
how long you work with this show;
in which affiliate you saw this product;
affiliate link from the network in which you are present the desired offer;
the amount of payment;
preferred price tag for CPAmatica;
how many leads you generate per day;
list of GEO;
allowed traffic sources.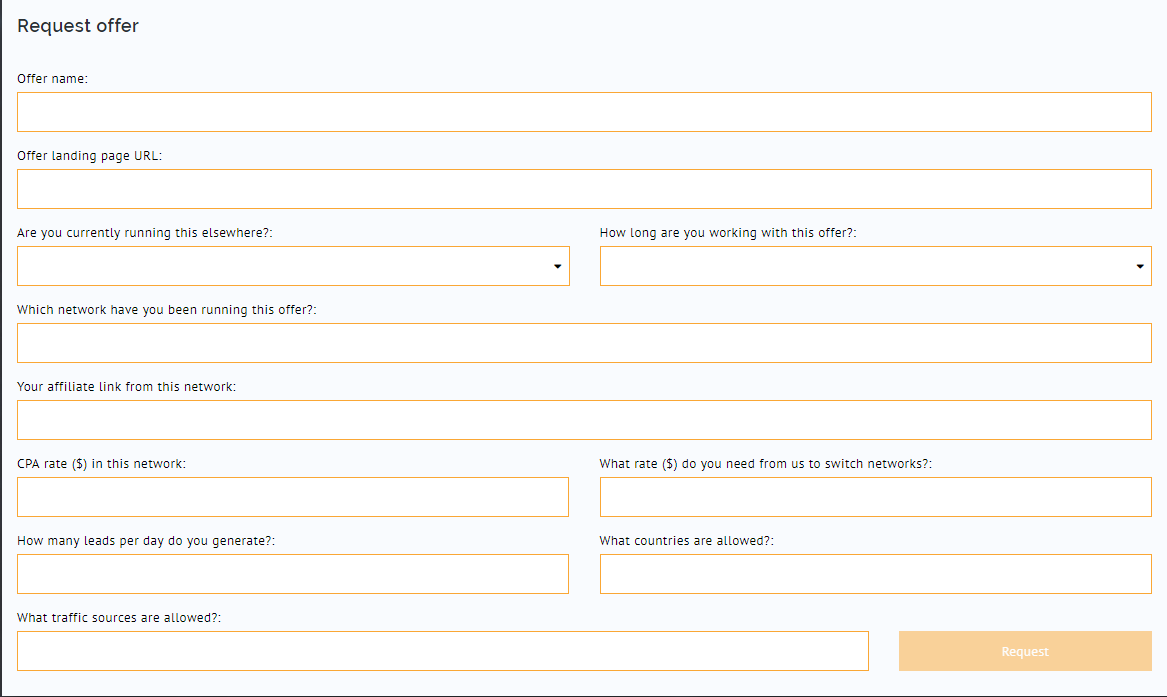 Statistics in the CPAmatica affiliate network

The partner program has a built-in flexible analytics system. You can customize the data tables.

The following information is available:
visits;
clicks;
CV;
EPV;
CR;
EPC;
EPA;
countries;
browsers;
types of devices;
operating systems.
You can also configure the postback –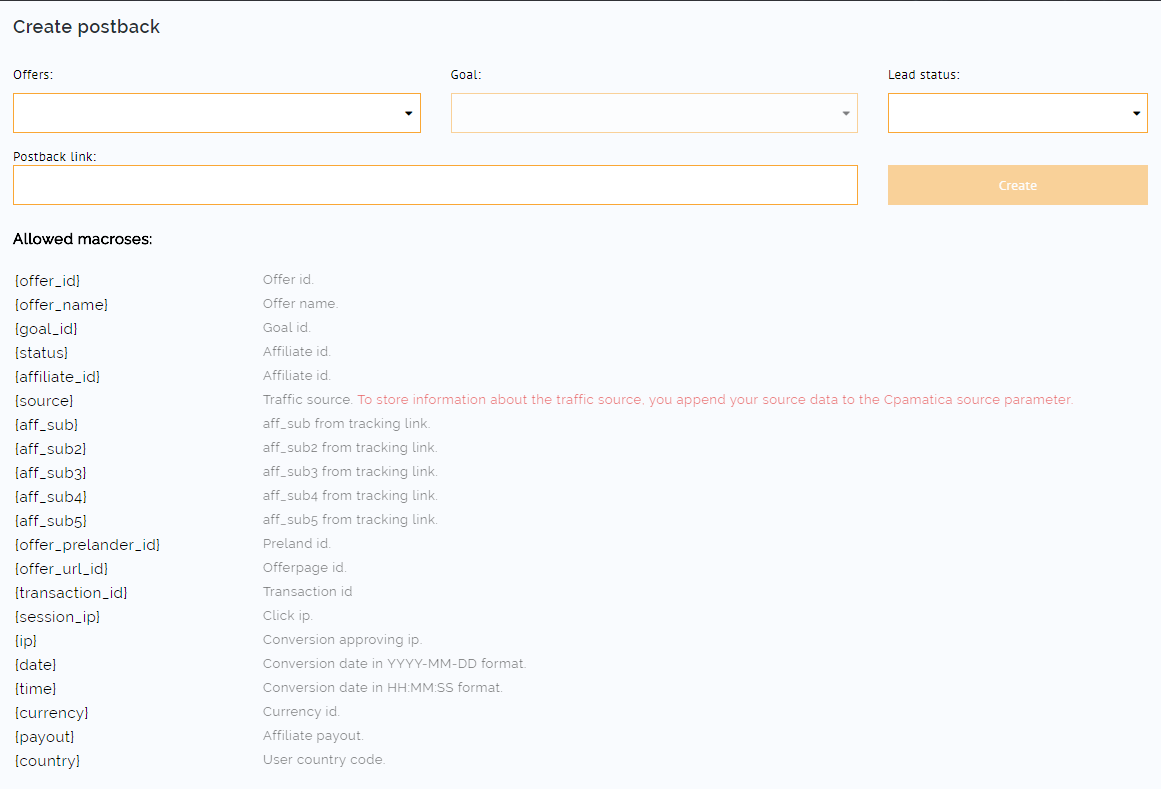 Payment methods in CPAmatica

CPAmatica – is an affiliate with payment for the result. The main models are CPA, CPI, CPL, CPS. The affiliate program supports 6 payment systems. The minimum amount of output in CPAmatica depends on the chosen payment method:
Webmoney – $ 50;
Paxum – $ 250;
Payoneer – $ 250;
Paypal – $ 500;
ePayments – $ 500;
Wire – $ 1000.
For beginners, payments are made through the NET-15 system. The first transfer takes place 2 weeks after the start of the discharge. Usually, money is credited within 3 days following the request.
CPAMATE CLUB

CPAmatica implemented a system of motivating affiliates. Every $ 10 earned in the affiliate network brings 1 point. The accumulated points in the future can be exchanged for prizes:
Apple hardware;
GoPro Hero5;
SONY PlayStation 4;
VR helmets;
drones;
Ducati Xdiavel;
Harley Davidson;
Tesla Model S.
Is it worth it to work with CPAmatica?

That's up to you, definitely. We only want to sum up the advantages and disadvantages of the partnership.
Pros of CPAmatica

an intuitive interface;
a large selection of offers;
you can order the desired offer;
weekly payments;
high deductions (this introduces CPAmatica into TOP partners);
promotional materials for each offer;
accepts an adult traffic (not for all of the offers);
there is a parking of domains, postback, smart-link;
"tasty" system of motivation;
loyal technical support.
Cons CPAmatica

you need to verify your account through the manager;
closed catalog of offers;
limited number of verticals.