The service provides opportunities for monitoring the advertising market, choosing the right traffic sources, increasing CTR by optimizing your banners and landing pages and also analyzing traffic.
What Admobispy offers:

to find ads by one-click with more than 100 CPA networks;
the possibility to download all types of ads, including video advertising;
the possibility to download landing pages in .zip, including .html, .css and javascript;
23 ad networks (In-App / Mobile Web);
6 Pop-up / Redirect networks;
search for key words, redirects, publishers;
a detailed analytics on applications (graphs on countries, networks, demographics, competitor analysis);
functionality of tracking trends and changes in the Advertising campaign;
automated system for tracking changes in the Advertising campaign.
How to use Admobispy?

You need to choose the necessary section in which you can find converting ads, landing pages:
InApp

You can select the checkbox "Only new ads" in the filter "Period" to see only new ads that appeared during the selected period.
In order to find those that have received more traffic first, choose "By popularity" in the filter "Sort by".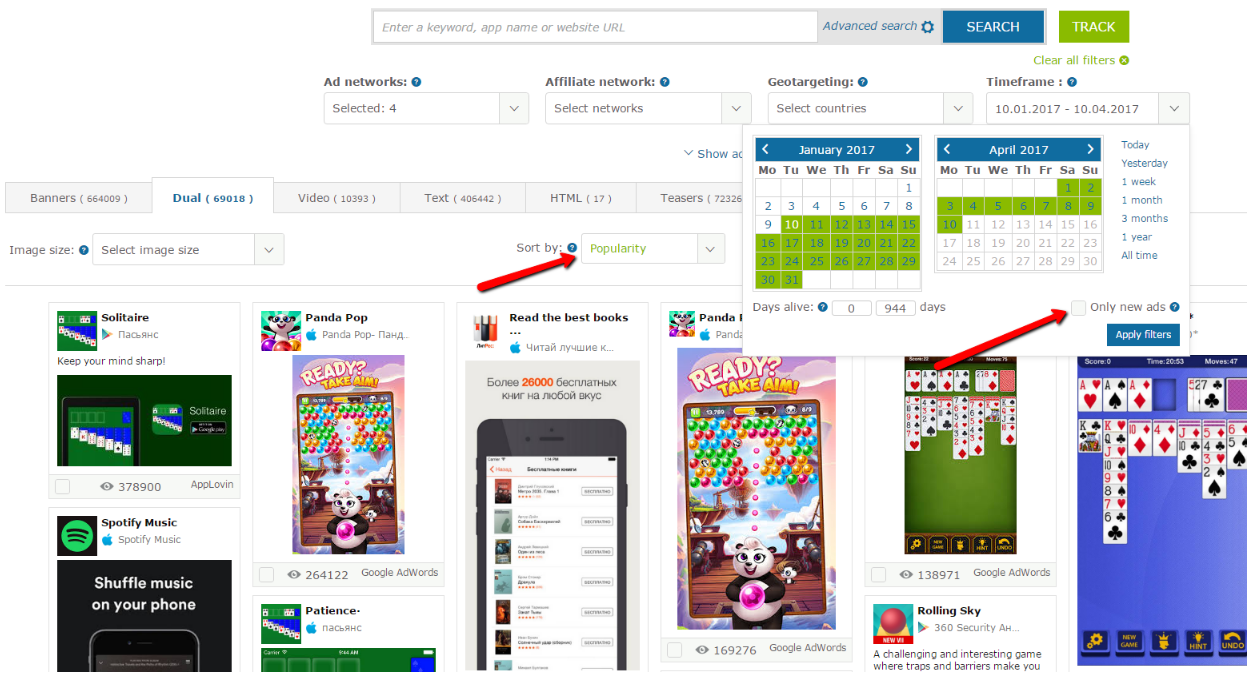 Application Analysis

Keep on top the trend of applications – it shows whether the offer falls down on its work or, conversely, gains momentum.
By setting "Tracking" on this page, you will receive notifications when the trend is changed or about amount of advertisements for the application, depending on the criteria that you set.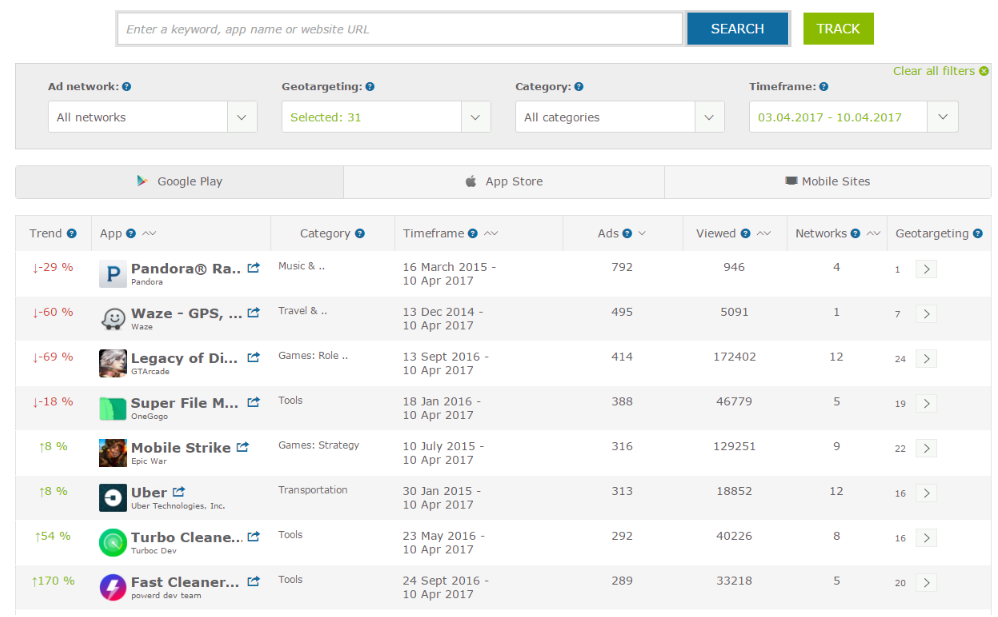 In the details of any application, you can:
find an advantageous source of traffic;
to analyze, on what GEO advertising turns more successfully;
determine in which affiliate networks there is an offer, and whether they work directly or not;
analyze the advertising campaigns of competitors;
view the top banners for a specific application.
Popup

Search by:
Key words – to see which offers are represented in a particular vertical.
In all redirects, if you want to find campaigns that use lending page and direct campaigns. You can search, for example, by ID of the offer.
In the redirect chain, if you want to find campaigns that do not use LP, that is, those that direct traffic straight to the end page of the offer.
In outgoing redirects, if you are looking for campaigns that use landing page.
By Publisher. Publisher – websites or applications where ad are runing. You can see on which site campaigns work and choose profitable placements. Some placements won't convert for a certain verticals, but that same placement may convert well for other verticals.
You can download any landing page in the issue, optimize for yourself and test it.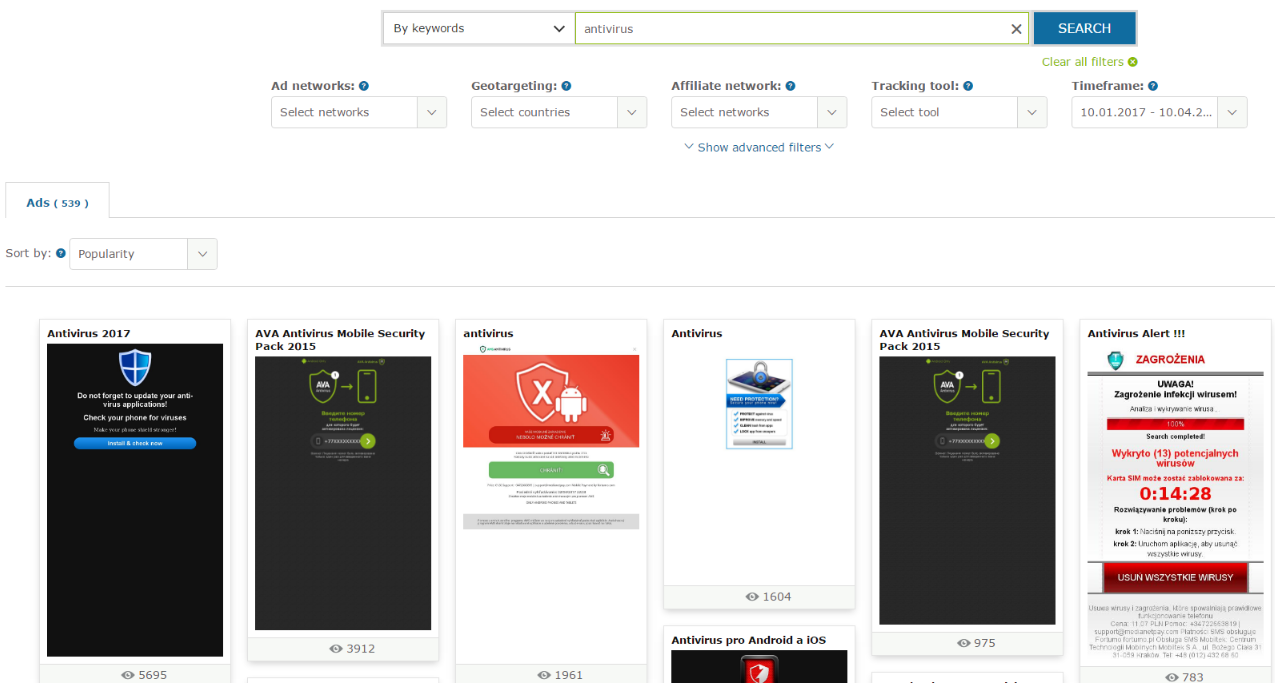 Rates

There is a referral program: the webmaster receives 10% of the replenishment amount of the client. The invited participant receives a 10% discount on the AdMobiSpy service.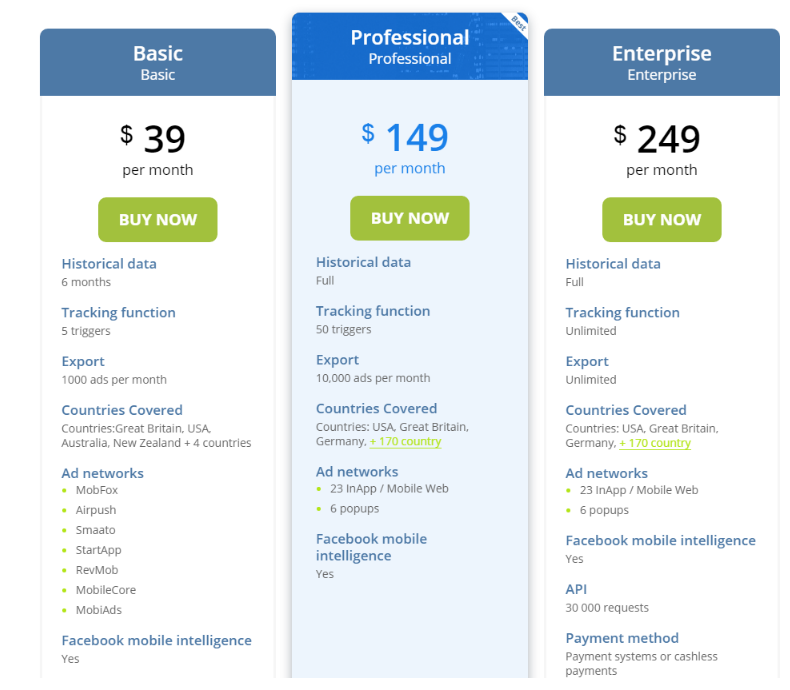 AdMobiSpy service:
Simplifies analysis and data collection;
Automates the process of "Tracking" changes;
Allows you effectively create and optimize ads and landings;
Reduces time spent on analytics by 70%. All data is collected in one service.
Our managers will explain you the intricacies of working with the service, will help you in solving your problems, answer all the questions.